In 2021 Aberystwyth University, in collaboration with the Royal veterinary College, proudly launched a new Bachelor of Veterinary Science (BVSc) degree.
As Wales first and only Veterinary School, works were undertaken to significantly refurbish existing buildings and grounds to create a new, state of the art, world leading Veterinary education centre.
Students, will now have the opportunity to complete a comprehensive range of practical Veterinary education to support their future careers.
As part of the equipment fit-out phase, the centre needed to procure thirteen, mobile downdraught dissection tables, which would need to be ergonomic in design with high levels of recirculating filtration at the table surface.
In February 2020, following initial discussions, LEEC were invited to present to the academic lead team previous examples of work and to discuss the upcoming project. During this meeting, initial concepts were discussed which may provide a solution to the Universities requirements and LEEC were able to supply general concept drawings in the following weeks.
After a period of driving the complete project forward, the project was tendered in March 2021, with LEEC able to competitively tender for the equipment required and, on successful selection, engage in direct discussion working with end users. As a bespoke project, which included the design and production of completely new systems, a detailed process ensued, arriving at approved designs, incorporating client requests, which would ensure LEEC equipment would match the clients and students future proof requirements.
A challenging project in terms of both technical detail and difficulties presented by COVID-19, LEEC are proud to have been selected to contribute to this world class centre.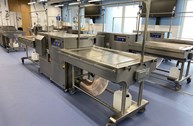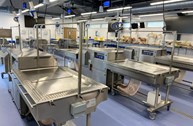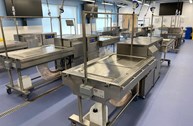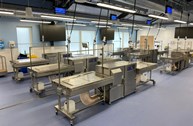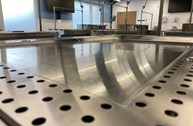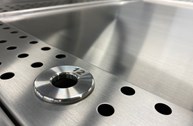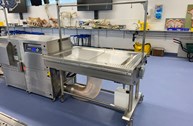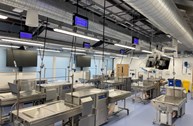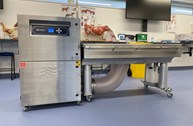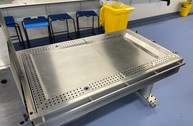 The equipment that LEEC provided were as follows:
12 Mobile recirculating downdraught dissection tables-fixed height
1 Mobile recirculating downdraught dissection table- height adjustable