Features:
Mobile Working Platform
Secure and Safe 2 Shelf Storage
Grade 304 S/S Construction
Grade 316 S/S Work Surface
Removable Tray for Cleaning
Full width Instrument Drawer
Secure and safe 2 'compartment' storage
Bespoke cutouts available to suit jars, pumps or embalming equipment
Capable of holding 6 x 25l chemical drums
Facility to dispense from the upper shelf
The LEEC Fluid Storage Cabinet is a secure and lockable mobile storage unit, specifically designed for the professional or contract embalmer. this mobile storage cabinet provides not only a useful working platform but provides secure and safe storage for fluids such as formaldehyde, sharps, instruments and embalming tools.
Because of the quality and manufacture, with the worktop constructed out of 316-grade stainless steel, this cabinet is able to withstand chemical attack and is designed to contain spillages. The tray can be easily removed for cleaning and can be customised to store jars, pumps or other embalming equipment.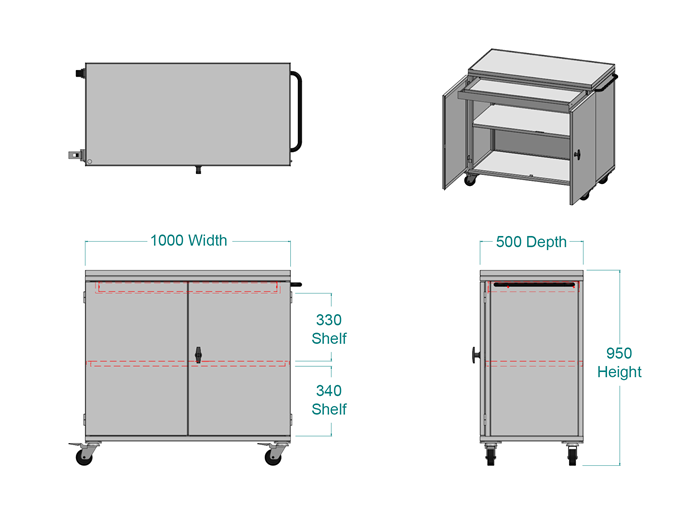 As standard, there is a handle on the right-hand side of the unit to move the cabinet around the room. On request, the cabinet can be manufactured with the handle on the left-hand side or a handle on both sides.
As standard, the removable top work surface is supplied blank with only a small hole to enable easy removal. On request, the removable top can have additional cutouts and/or sheaths to suit the clients' needs, whether they are for bottles, jars, pumps or any other embalming equipment.
Related Products