Features:
Precise temperature control
Precise humidity control
Fan assisted
Stainless steel chamber and shelves
Models available: SFC2C/RH, SFC3C/RH
LEEC's Humidity cabinets all have stainless steel chambers and adjustable stainless-steel shelves. SF chambers are sealed and watertight making them suitable for humidity's up to 98%. SF models can also have an optional heated outer door to demist the inner glass door(s). CFC-free Polyurethane insulation provides very efficient thermal stability in all models with a 12mm access port is provided as standard.
Monitoring and controlling both heating and cooling functions are performed with great accuracy, achieving typical temperature stability of ±0.5°C. The microprocessor-based digital temperature controller allows temperature performance to be easily verified with a digital over-temperature safety cut fitted to all models.
All RH models are fitted with an ultrasonic fine mist humidity generator located at the bottom of the chamber. The microprocessor humidity controller accurately monitors and adjusts the chamber humidity level. All RH models can dehumidify as well as increase humidity, but it should be noted that not all combinations of humidity and temperature are possible: temperature and humidity performance vary according to the combination selected.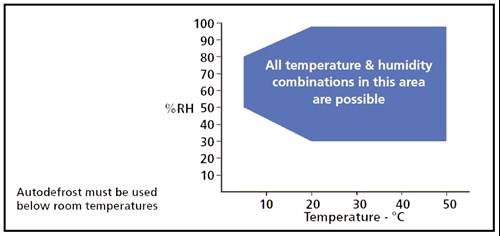 SFC2C/RH
SFC3C/RH
Temperature Range*
+5°C to +50°C
+5°C to +50°C
Temperature Control
±0.5°C at 20°C
±0.5°C at 20°C
Temperature Variation
±0.5°C at 20°C
±0.5°C at 20°C
Humidity Range
30% to 98%RH
30% to 98%RH
Humidity Variation
±5% at 20°C
±5% at 20°C
External Dimensions
(H x W x D mm)
1075 x 635 x 660
1745 x 635 x 660
Internal Dimensions
(H x W x D mm)
590 x510 x 490
1275 x 510 x 490
Chamber Capacity
150L
320L
Shelves Included
4
6
Weight
100kg
145kg
Power Rating
800 watts
850 watts
Insulation
Expanded polyurethane foam
Expanded polyurethane foam
Access Port
Yes (12mm diameter)
Yes (12mm diameter)
Castors
Optional ST1 wheeled platform available
Optional ST1 wheeled platform available
Exterior Material
White polyester powder-coated steel
White polyester powder-coated steel
Interior Material
Mirror finish stainless steel
Mirror finish stainless steel
Refrigerant
CFC free
CFC free
* Temperature specification at 20°C ambient
LEEC Ultrasonic Humidity Cabinets are made to order. LEEC prides itself on being able to deliver exactly what the customer wants and can produce a Humidity Cabinet that is tailored to meet a specific need. Below are the options which are available on the LEEC Ultrasonic Humidity Cabinet range. 
Options
Related Products