Queens Medical Centre - Nottingham
During May 2019 a full Post-Mortem room brief was provided to LEEC by the Mortuary team at Queen's Medical Centre, Nottingham, with whom we worked closely to develop the design.
The brief having an emphasis on improved manual handling, ease of cleaning and connection to the existing mechanical services, was ideally suited to LEEC's ability to offer a fully comprehensive bespoke facility and equipment design service.
A delegation from QMC was able to visit LEEC's factory Post-Mortem suite showroom, whereafter a final decision on equipment selection was made. An order was placed in June 2020 and in spite of COVID restrictions which delayed the initial start date, works were completed in June 2021.
LEEC's scope of supply included five Post-Mortem Tables and Dissection benches in the main Post- Mortem room and a Forensic room with height adjustable, rotating Post Mortem Table and Dissection Bench.
In addition, LEEC supplied, bespoke work tops, sinks and storage to provide a fully fitted solution.
Other works outside LEEC's initial remit, included mechanical & building services to assist the smooth installation of the project.
Final use of the equipment has and continues to receive a very positive response from end users.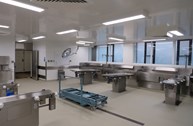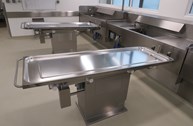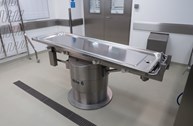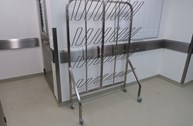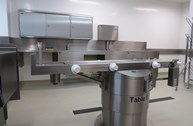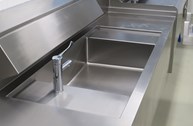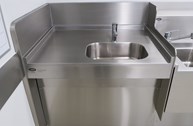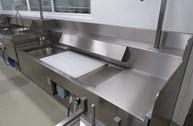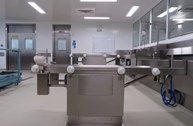 The equipment that LEEC provided were as follows:
Testimonial
'Staff are over moon with the work carried out and the lack of manual handling is of great benefit'. 'Great that the surfaces and tables go up and down, which makes it more comfortable for the staff so they are not bending over as much'.
Mr Scott Raven FAAPT, Qualified Embalmer, NUH Mortuary Manager