Features:
Large bench top incubator
Touch screen controller
Infrared CO2 sensor (drift free)
Seamless, deep drawn chamber
Full data logging (text & graphical)
316 grade electro-polished chamber
190 litre chamber
Fanless design (less risk of contamination)
Anti-bacterial biocide paint
200°C sterilisation (Touch 190S only)
Multi Gas / Low Oxygen version available (Touch 190S only)
LEEC Culture Safe Touch 190 CO2 Incubators have a fully sealed, electro-polished, one-piece, deep drawn 190-litre chamber which is manufactured from the highest grade 316 stainless steel. The outer cabinet is manufactured from stainless steel and has an anti-bacterial powder coat paint finish giving the CO2 incubator exceptional corrosion and contamination resistance.
All LEEC Culture Safe Touch CO2 Incubators have 6-sided, fan-less heating systems with high-performance thermal insulation, minimising the risk of contamination and future maintenance costs. Each incubator has an inner glass viewing door which allows for a clear view of the chamber without disturbing the internal atmosphere. The outer door provides a firm seal with a magnetic gasket, which locks during the sterilisation cycle (T190S only). LEEC utilise an infrared CO2 sensor, giving a more accurate reading of the internal atmosphere irrespective of the humidity level.
LEEC also offers a low oxygen/multi-gas incubator with 1-19% Oxygen Control as a factory-fitted option on our Culture Safe Touch 190S and mini Culture Safe Touch 50S CO2 Incubators (Please see the Technical tab for more details).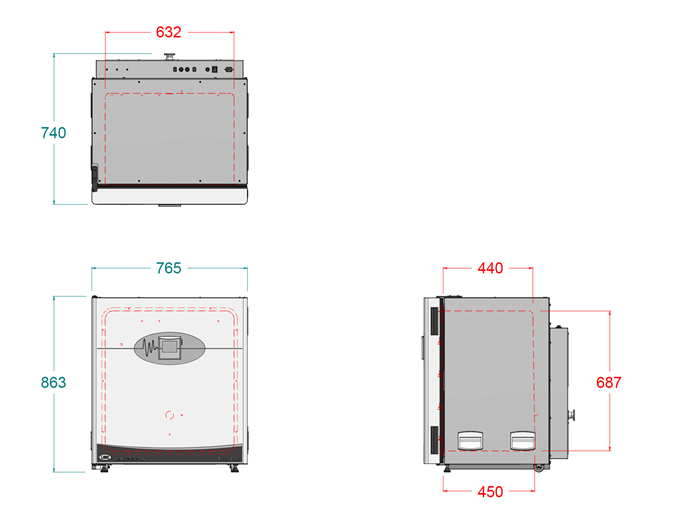 | | | |
| --- | --- | --- |
|   | T190 / T190S | T190S OXY-19 |
| Temperature Range | At least 5°C above ambient to +60°C | At least 5°C above ambient to +60°C |
| Temperature Control | Typically ± 0.1°C | Typically ± 0.1°C |
| Temperature Stability | ± 0.1°C @ 37°C | ± 0.1°C @ 37°C |
| Temperature Uniformity | ± 0.25°C @ 37°C | ± 0.25°C @ 37°C |
| CO2 Range | 0% – 20% | 1% – 20% |
| CO2 Control | ± 0.1% | ± 0.1% |
| CO2 Stability | ± 0.2% | ± 0.2% |
| CO2 Uniformity | ± 0.2% | ± 0.2% |
| CO2 Sensor | Infrared | Infrared |
| O2 Range | N/A | 1% TO 19% |
| O2 Control | N/A | ± 0.1% |
| O2 Stability | N/A | ± 0.25% |
| O2 Uniformity | N/A | ± 0.25% |
| O2 Sensor  | N/A | Electrochemical |
| Min CO2 inlet pressure | 5 psi / 0.3 bar | 5 psi / 0.3 bar |
| Max CO2 inlet pressure | 10 psi / 0.7 bar | 10 psi / 0.7 bar |
| Min N2 Inlet pressure | N/A | 5 psi / 0.3 bar |
| Max N2 inlet pressure | N/A | 10 psi / 0.7 bar |
| Power Requirements | 230VAC, 50/60 Hz (120V versions available) | 230VAC, 50/60 Hz (120V versions available) |
| Humidity (@37ºC / 5% CO2) | up to 90% RH | up to 90% RH |
| Weight | 94.5kg (T190), 104Kg (T190S) | 105kg (T190S with OXY1-19) |
Options
Accessories